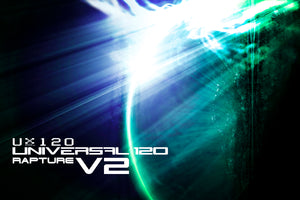 Universal 120 Volume 2
Sale price
$9.99
Regular price
$39.00
A Supernova of Rapture Content
Introducing Universal 120 V2 Rapture Expansion Pack. Featuring sound designer Francesco Silvestri.
800+ Total Programs. Thousands of samples and oscillators.
800+ Total Patches
Velocity, Mod, Aftertouch. Ready.
Basses, Keys, Leads, Pads, Percussions, Sequences, Short-decay, Textures&Atmospheres. These new Rapture programs have been hand crafted to be expressive, playable, and balanced.
550 Envelope Generator Presets
Modulate to your hearts content.
Attack Decay Generators, Attack Release Generators. Instrument Emulation Envelopes for blown, bowed, keyed, plucked, and struck instruments. SG Retrigger and Return Envelopes. Various Shapes, and Stepped Pitch envelopes.
Custom LFOs & Mircro Tunings
Muscial Expression Detailed.
80 custom LFO Waveforms for use as Modulators or pulse oscillators. Optimized Pitch LFOs for Trills, Grace Notes, 4ths, 5ths, and Octaves. 32 micro tunings for breakthrough compositions.
700 Step Generator Sequences
Taking Productions One Step Ahead.
Accented and Straight Rhythms. Sequence Shapes. Stomp Box Sequencer Patterns. Pitch Twisters optimized for Pitch Modulation for single and double octaves. Waveform shapes for smooth and stepped percussive sequences.
Tech Specs
800+ Rapture Programs
500MB Sample Library .wav and .sfz format.
550 Envelope Presets
700 Step Generator Presets
80 custom LFO waveforms
32 Scala Micro Tunings
Available as an Direct Download
Requirements
Rapture 1.2.2 or Rapture LE 1.2.2
Rapture Pro or Rapture Session
Thanks for keeping Rapture Alive.
Your presets are great Thanks for the efforts. I like your patches in some way more than PlugIn Guru's for omnisphere. They show off what Rapture can really do, which Cakewalks don't always do that. I reccommend these for Raptures.
---
More from this collection